"The cosmic credit" by Doctor José Luís Cabouli. A talk in Spanish with English subtitles.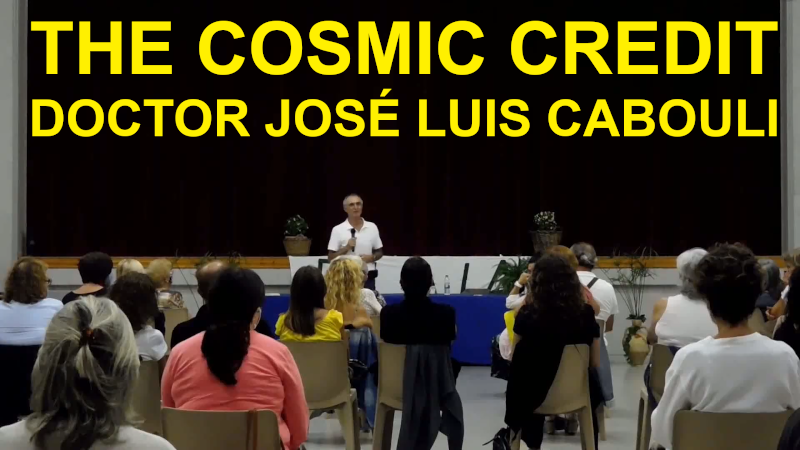 https://odysee.com/@animaweb:b/Doctor_Jose_Luis_Cabouli_El_credito_cosmico_castellano_subtitled_English:e
Excerpt from the talk entitled "Life before birth" by Dr. José Luis Cabouli, held in the multi-purpose Hall at Soleràs (Les Garrigues, Catalonia), on Saturday 29th August 2020.
This talk was about presenting a book with the same title, written by Doctor Cabouli, and is based on the dialogue with the patients under a regression therapy where they go through experiences, either in previous lives, in periods between lives, during their conception, during gestation in their mother's womb, or at birth. The aim is to heal phobias or traumas from the past, or also to learn life lessons they have not yet learnt.
In this passage Doctor Cabouli introduces the public to a concept, "The cosmic credit", with relation to a state shared with "karma" or "debt", but with an opposing polarity. Based on the quality balance of the individual soul, some sort of capacity to choice on their side may be envisaged. For example, the ability to choose some given conditions for their future incarnation.
We apologize that, because of the conditions imposed for this act, it has been necessary to establish a separation among the public, besides the uncomfortable requirement of wearing a mask, even worse for those ladies who may have felt some worry concerning their pregnancy. The act needed a permission, and until the very moment of its celebration we were not sure that his could take place, nor if there would be a new opportunity to hold another one in the following days in the western areas of Catalonia.
We know there are scientific and medical experts who challenge with strong arguments the need for these measures of control. On the other hand there is a pressing need to make known publicly and in presence the Past Lives Therapy (PLT) and the Therapy of Spiritual Possession (TSP), in face of the possible enormous quantity of instances of human suffering which we calculate are waiting to be solved in all the incarnate and disembodied souls of Mankind, existing all along its history, that make it necessary to make it known among all the population without delay.
Original video: Manuel Marsan. Helped with subtitles: Xavier Climent. Subtitles edition: Brauli Tamarit. Organized by: Associació Cultural de Dones Elaia. Co-operates Soleràs Town Council. English translation: Loto Perrella.
Publication profile in "Odyssee": Animaweb. Talks in English. Date of publication in "Odyssee": Thursday, 29th September 2022.. Video length: 3 minutes 33 seconds. Language: voice in Spanish with English subtitles.
Source of original video:
https://www.youtube.com/watch?y=WDqrLCJN9D4.
Translation: Loto Perrella.