"Past Lives Therapy". A pathway to the light of the soul. Doctor José Luis Cabouli. 12-1-2023.
Conference/Presentation.
Thursday, January 12, 2023. 20 hours.
Llibreria Epsilon.
Carrer Casanova, 82.
Barcelona.
Free entrance. Limited capacity.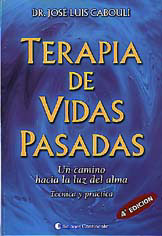 "Past Lives Therapy". A pathway to the light of the soul. Doctor José Luis Cabouli.
Have we lived other lives before this one? Is it possible that today, in our present life, we unknowingly react to the influx of old unresolved emotions?
Many people undergoing the regression experience find that the symptoms and conflicts that disturb them in their current life disappear or are resolved by reliving scenes from their previous lives.
For the first time, an Argentinian doctor reveals his clinical experience with Past Lives Therapy (PLT) and explains, in a clear and entertaining way, through real stories, the technique he uses in his private practice.
From the basic concepts, the origins and evolution of PLT, passing through the fundamental technical premises, the reading takes us gently and progressively towards the intimate experience of regression through the development of therapeutic sessions as they were experienced by the people involved in them.
The eighteen stories presented are true and illustrate just a few of the many possibilities offered by PLT.
Epsilon: The reference. Since 1973 at your service.
In 2023 we are celebrating our 5oth anniversary.
Booking on the following phone numbers:
Landline phone: 934530939.
Mobile Phone: 638272887.
Link to the Epson Library activities program along January del 2023:
https://libreriaepsilon.com/conferencias/ENERO%202023
Post English translation: Núria Comas Viladrich.