Category:
Lawyer Marcelo Beloqui
First International Symposium on Regression Therapy.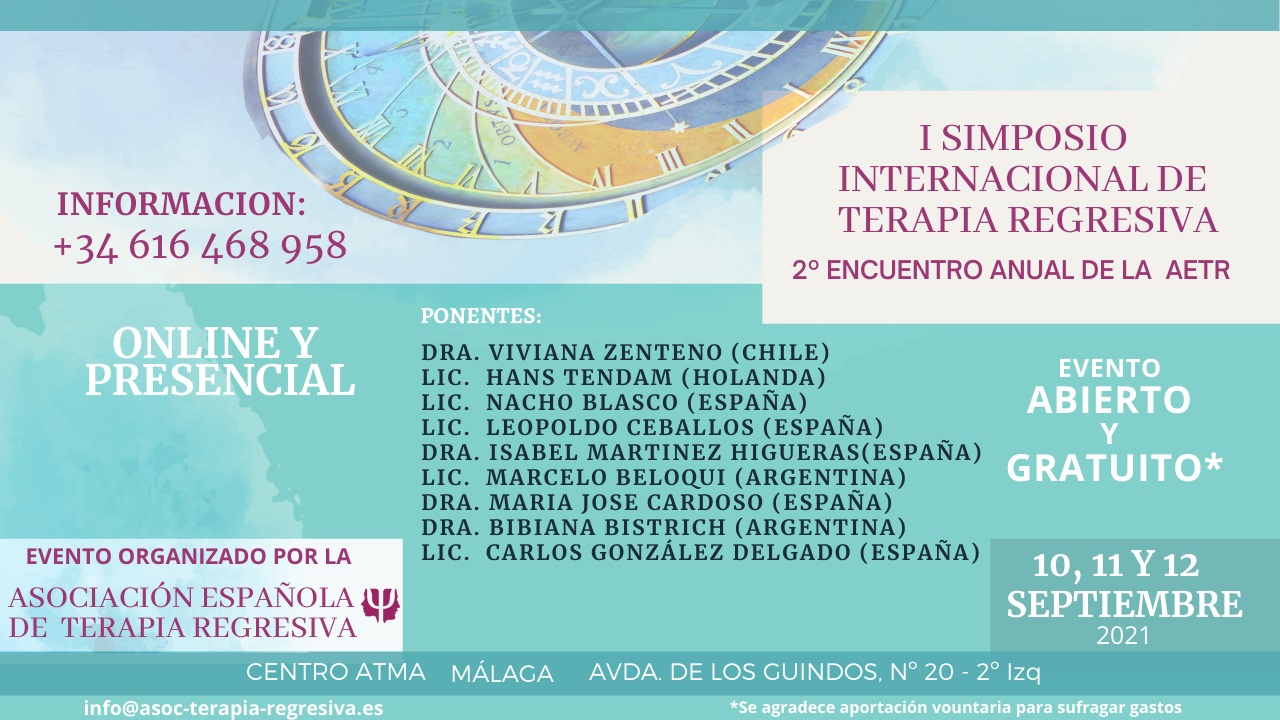 First International Symposium on Regression therapy open and free online and in person. 2nd Annual Meeting of the Regression Therapy Spanish Association. Dates: September 10th, 11th and 12th of of 2021.
Information via email: info@asoc-terapia-regresiva.es and Whatsapp: +34 616468958.
Symposium video presentation:
Editor profile in «YouTube»: REGRESION TV Carlos González Delgado ATMA. Publication date in «YouTube»: Wednesday, August 25th of 2021. Duration: 11 minutes and 37 seconds. Language: spanish.
Symposium general website:
https://asoc-terapia-regresiva.es/simposio/
Direct access to contributions, if you write your email address you will receive the bank information:
https://asoc-terapia-regresiva.es/aportacion-2sin/
Document in «PDF» format containing information on all the guest speakers and activities program (in Castillian Spanish):
1st International symposium on regression therapy. AETR. Guest Speakers and activities program.
Post English translation: Núria Comas Viladrich.
Past Life Therapy Workshop. May 29-20, 2021.
Post English translation: Loto Perrella.
Free happening through Zoom.
There are several ways of approaching the soul's past, and the most sought after is, wanting to know who we were in times past. But perhaps it is more significant to know in which emotions or circumstances we became caught, so that knowing this we may conclude stories and carry on with our life in this lifetime.
Programme:
Saturday, May 29, 2021.
Mexico time:
10 a.m.: Opening by Mrs. Lili Bosnic from Mexico.
10.15 a.m.: Lic. Carlos González Delgado, Spain:
Regression therapy and soul psychology.
11.45 a.m.: Lic. Marcelo Beloqui, Argentina.
PLT with respect to a good death and beyond.
1.30 p.m. : Dr. José Luís Cabouli, Spain.
Captures of the soul.
3 to 4.30 p.m.: recess for lunch.
4.30 p.m.: Dr. Viviana Zenteno. Chile.
Karmic relationships.
6.15 p.m.: Mrs. Lili Bosnic. Mexico.
This… and that… and my experience too.
8 p.m.: End of the day.
Sunday, May 30, 2021.
10 a.m.: Lili opens the sittings.
10.15 a.m.: Dr. Bibiana Bistrich. Argentina.
Foetal life.
11.45 a.m.: Dr. Maria Eugenia Domínguez. Argentina.
Resources for integrating the soul.
1.30 p.m.: Close down of the workshop.
See the time in your country:
9 a.m.: Costa Rica, Nicaragua.
10 a.m.: Colombia, Peru, Mexico.
11 a.m.: Chile.
12 a.m.: Argentina, Brazil.
5 p.m.: Spain, Catalonia, Italy.
Register here:
Fill in the registration form and on Thursday, May 27, you will receive in your mail a link to enter the workshop.
E-mail: info@laredfloral.com
telephone: 55 4903 2000
Many thanks for sharing this information and for your interest.