Category:
Presentacions en vídeo
Introduction to regression therapy.
On site and online.
Promotional video. Speaking: Carlos González Delgado, registered psychologist. Title: Regression Therapy, by Carlos González. June 11 and 12. YouTube channel: Kiko's Corner. YouTube posting date: Saturday, June 4, 2022. Duration: 2 minutes and 24 seconds. Language: Spanish.
Aimed to people who are interested in learning about this technique and all those who are considering professional training in this discipline.
Introductory course whose content is essentially practical with professional regression sessions to the attendees made by drawing lots.
Saturday, June 11, 2022 from 10 a.m. to 8 p.m., and Sunday, June 12, from 10 a.m. to 2 p.m.
San Jose Street, 21-23, Seville.
Scholar: Carlos González Delgado.
Collegiate psychologist AO-11251
Information: +34.637.87.66.66
rincondekiko

gmail.com
Informing:
ATMA Center.
https://www.terapiaregresiva.net
El rincón de Kiko.
New awareness.
Post English translation: Núria Comas Viladrich.
---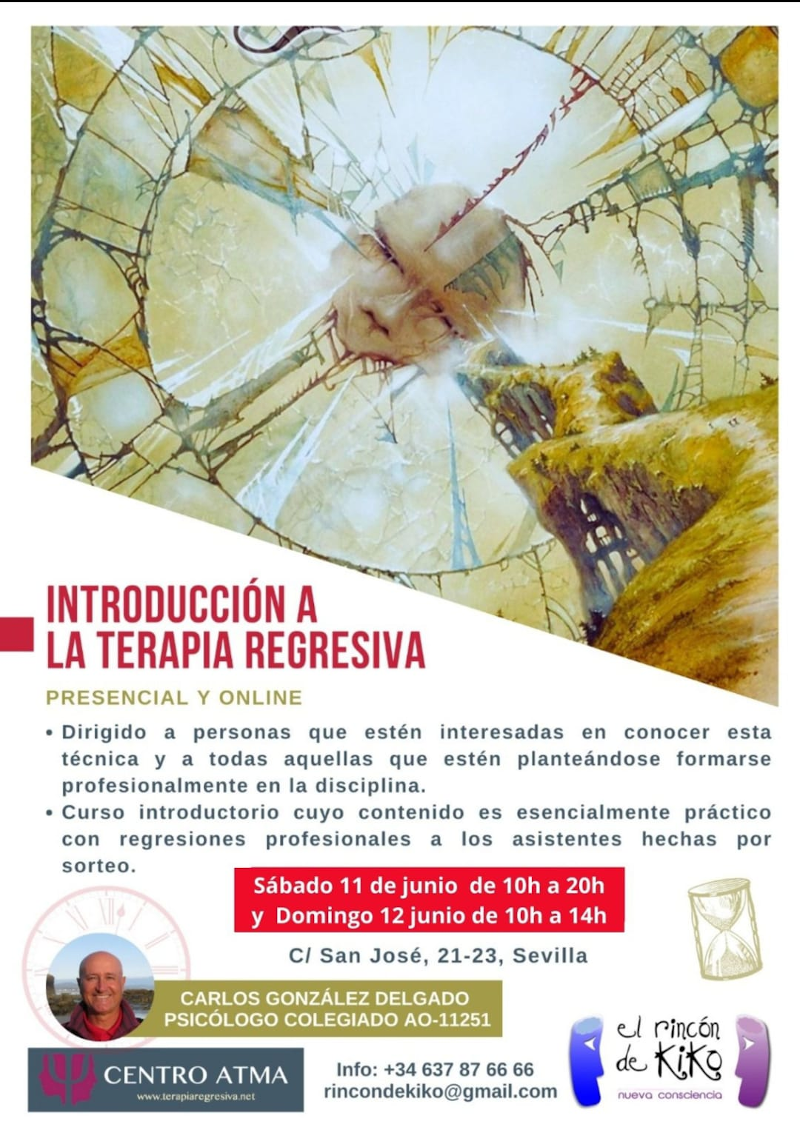 From Malaga to everybody…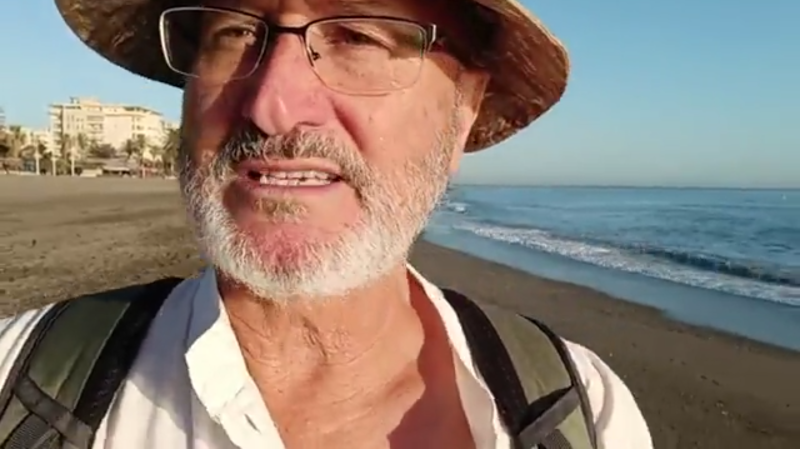 https://odysee.com/@formacion-en-terapias-del-alma-castellano:8/Carlos_Gonzalez_Delgado_-_Desde_Malaga_para_todo_el_mundo_castellano:f
Speaking: Carlos González Delgado, president of the Spanish Association of Regression Therapy (AETR), from Misericordia Beach, in Malaga. He explains that, thanks to his work with human souls, regression therapy helps to heal the suffering caused during pregnancy, birth, childhood and adulthood. Approximately seventy to eighty percent of patients heal suffering phenomena originating in previous lives. Regardless of whether or not one believes in past lives, these experiences are in the person's unconscious and for the individual these experiences are real.
A new training group is presented in Malaga throughout the months of June, July and August 2022, to continue in the following months. This training is open to both therapists and non-therapists. The training is divided into three modules and constitutes a journey through the soul of each student. In each of the modules, each student will experience one regression work. The first serves to get familiar with regression therapy, the work scheme will be given to you and it will last approximately three months. The second module, also lasting for three months, serves the purpose to become familiar with consciousnesses that do not inhabit bodies and which are usually called lost souls, even though they are not always lost, but rather found in this state by their own decision, for instance, to accompany one of their embodied relatives. The third module helps to become familiar with the existence of other than human consciousnesses belonging to other dimensions and that in a therapeutic or psychotherapeutic framework also are the reason for suffering among human beings…
Publication date on "FaceBook": Wednesday, May 26, 2022 at 7:47 a.m. Date of publication of the video in "Odysee": Thursday, June 2, 2022. Duration: 31 minutes and 51 seconds. Language: Spanish.
Source:
https://www.facebook.com/100006804488944/videos/356309003156170/
More information in:
Post English translation: Núria Comas Viladrich.